Creating a resume that stands out and impresses the MBA admissions committee is different from a job resume and can be tricky. However, by following some simple guidelines you can put together a resume that will make you stand out from the rest of the applicant pool. In this blog post, we will share with you some tips on how to create a resume that will make an impact on MBA admissions committees. So if you are applying to business school, read on!
4 reasons why MBA resumes are so important
MBA programs are highly competitive, and the admissions process is designed to identify the most promising candidates. One of the key components of any MBA application is the resume. Here are four reasons why your resume is so important in the business school admissions process:
It provides a snapshot of your professional accomplishments. The MBA admissions committee wants to see what you have accomplished in your career thus far. This includes your job titles, responsibilities, and any significant achievements.
It showcases your communication skills. Your resume is often one of the first things that an MBA admissions committee will read, so it's important to make a good impression. This means communicating your accomplishments clearly and concisely.
It can help demonstrate an applicant's leadership potential. Many MBA programs are looking for candidates with strong leadership qualities, and a resume is an ideal way to showcase these skills.
It can help illustrate an applicant's ability to think strategically. Admissions committees want to see evidence that applicants can think critically and make sound business decisions. A well-written MBA resume can demonstrate these qualities.
Looking for expert help to polish your MBA resume?
At Admit Expert, we have helped hundreds of students get into top MBA programs around the world. We would be happy to help you too.
Schedule a free call with us today to learn more about our services and how we can help you achieve your goals.
11 resume tips to impress the MBA admissions committee
There is no one-size-fits-all MBA resume, but there are some key elements that every great MBA resume should include.
Here are 11 tips to help you create an outstanding resume for your business school application:
Your resume should be one page long. You can go up to two pages if you have enough business experience that qualifies the need for longer resumes, but this liberty should only be taken if your work experience is more than 8-10 years.
List your professional experience in reverse chronological order. Start with your most recent job and work backward. Give more space to the most relevant and recent positions.
Focus more on your achievements and don't spend too much space on responsibilities etc., which would be captured in the achievements themselves.
Use action verbs and specific numbers and percentages to quantify your accomplishments. This will make your resume more impactful and help the admissions committee see what kind of value you would add to their program.
Choose a simple, clean format that is easy to scan. You want the admissions committee to be able to quickly see your qualifications and why you stand out from other candidates.
Good fonts include:

Arial
Tahoma
Times New Roman
Verdana
Helvetica
Use the following font sizes to improve the readability of your resume:
Name: 18-24 points
Heading: 14-16 points
Body: 11-12 points
Highlight your academic achievements, if any. Strong academic credentials are one of the factors B-schools look for in a candidate, so be sure to prominently feature your GPA, test scores, and other academic accomplishments.
Highlight leadership experience. Business schools are looking for leaders, so be sure to highlight any leadership experiences and positions of responsibility that you have held in your previous jobs.
Demonstrate your interpersonal skills. Describe situations where you have effectively worked with others, such as in team projects or customer service roles.
Showcase your problem-solving skills. Give examples of times when you have identified and addressed problems in the workplace.
Include extracurricular activities: With so many qualified candidates applying to MBA programs, it is important to find ways to make your application stand out. A strong resume with good extracurricular activities can help you do just that.
Mistakes to avoid while creating an MBA resume
MBA programs are highly competitive, and your resume is one of the key factors that admissions committees will consider when evaluating your application. Therefore, it is important to take the time to craft a well-written and effective MBA resume. However, there are a few common mistakes that applicants often make that can hurt their chances of being admitted to their dream school.
One mistake is including too much information. Your resume should be no more than one page, and it should focus on your most recent and relevant experiences. Admissions committees don't want to read about your high school internship or your part-time job from college; they want to see what you've been doing since you graduated.
Another mistake is using technical jargon or acronyms that the committee might not be familiar with. Always assume that the reader knows nothing about your industry or job, and use clear and concise language throughout your resume.
Finally, avoid using generic phrases like "team player" or "hard worker." These statements are empty clichés that don't tell the reader anything specific about you. Instead, focus on highlighting your unique accomplishments and skills, and personality traits that make you stand out from other MBA applicants.
By avoiding these common resume pitfalls, you'll give yourself a much better chance of being considered a strong candidate.
Looking for expert help to polish your MBA resume?
At Admit Expert, we have helped hundreds of students get into top MBA programs around the world. We would be happy to help you too.
Schedule a free call with us today to learn more about our services and how we can help you achieve your goals.
MBA resume template
Follow this MBA resume template to make sure your resume remains crisp, concise, and readable:
One-page resume
Leave some white space for reading comfort
Pick a readable resume font
Lock in your margins at one inch
Write resume sections for Education, Experience, and "Extra-Curriculars".
Put jobs in reverse-chronological resume order
Save your resume in PDF format
According to Zety, an organization that specializes in crafting resumes, choose a template based on the number of years of experience that you have:
Sample MBA Resume Template (Experienced Candidates)
Contact Information
Education
Work Experience
Extra-curriculars
Sample MBA Resume Template (Less Than 2 Years Experience)
Contact Information
Resume Objective (or a Career Goal)
Academic Experience
Work Experience
Awards and Honors
In each section, list your experience in reverse chronological order, starting with your current or most recent activities.
What makes a resume good or bad?
A resume is a combination of your goals, skills, and achievements. How well you write these sections makes all the difference.
Here are a few examples of good and bad resumes.
Objective
Highlight and quantify your achievements to add value to your dream business school:
Good example:
Results-driven marketing manager and MBA applicant with 2+ years of experience and solid leadership skills, seeking to add value to Kellogg School of Management's class. As marketing manager at XYZ company presided over 20% average revenue gain for 17 clients.
Bad example:
MBA school applicant with strong skills in leadership, marketing, digital marketing, and strategy and planning. Have worked in the real world as a marketing manager. A hard worker and a strong student, driven to excel.
Experience
Quantify the impact you made in your work experience. Highlight your most outstanding achievements here.
Good Example:
Marketing Manager
XYZ, Inc Bengaluru, India 2017–Present
Led a marketing team of 10 employees to create and implement cross-platform campaigns for 17 corporate clients, including digital and print.
Used email marketing best practices to increase the open rate by 30%.
Raised conversion rates by 18% by using targeted campaigns.
Key Achievement
Presided over an average of 20% in revenue gains for 17 clients, raising revenue by $1.3M per year for one client.
Bad Example
Responsible for marketing team leadership.
Handled the creation of marketing strategies and plans.
Tasked with creating and implementing marketing campaigns.
Managed email marketing campaigns.
Assigned to raise conversion rates.
Sample Resume for MBA Applications You Can Copy and Use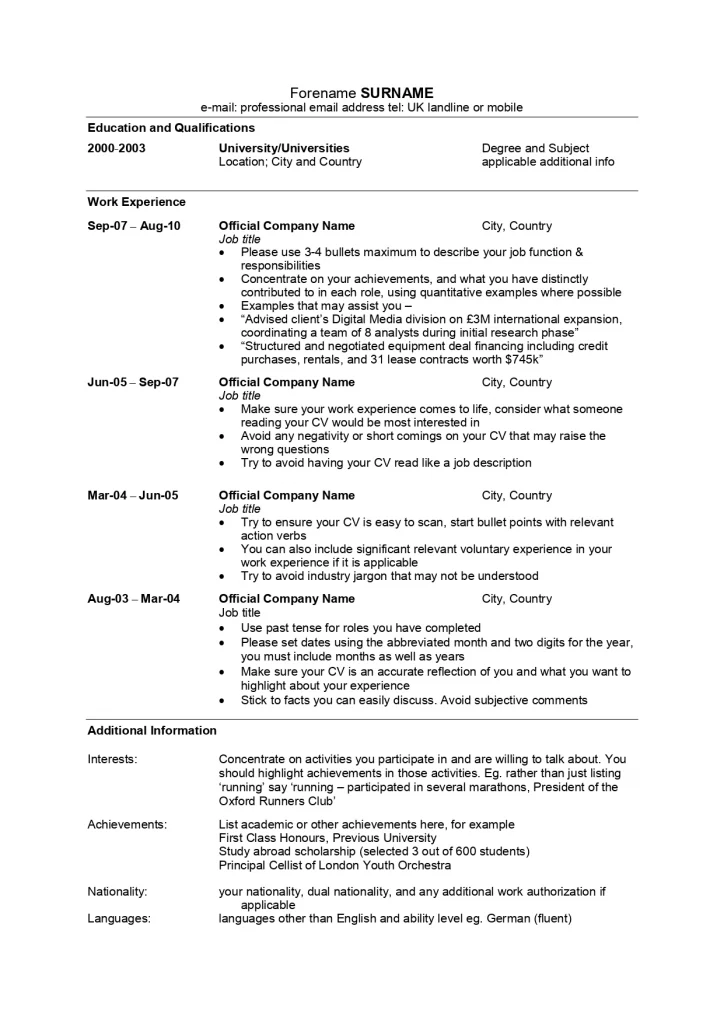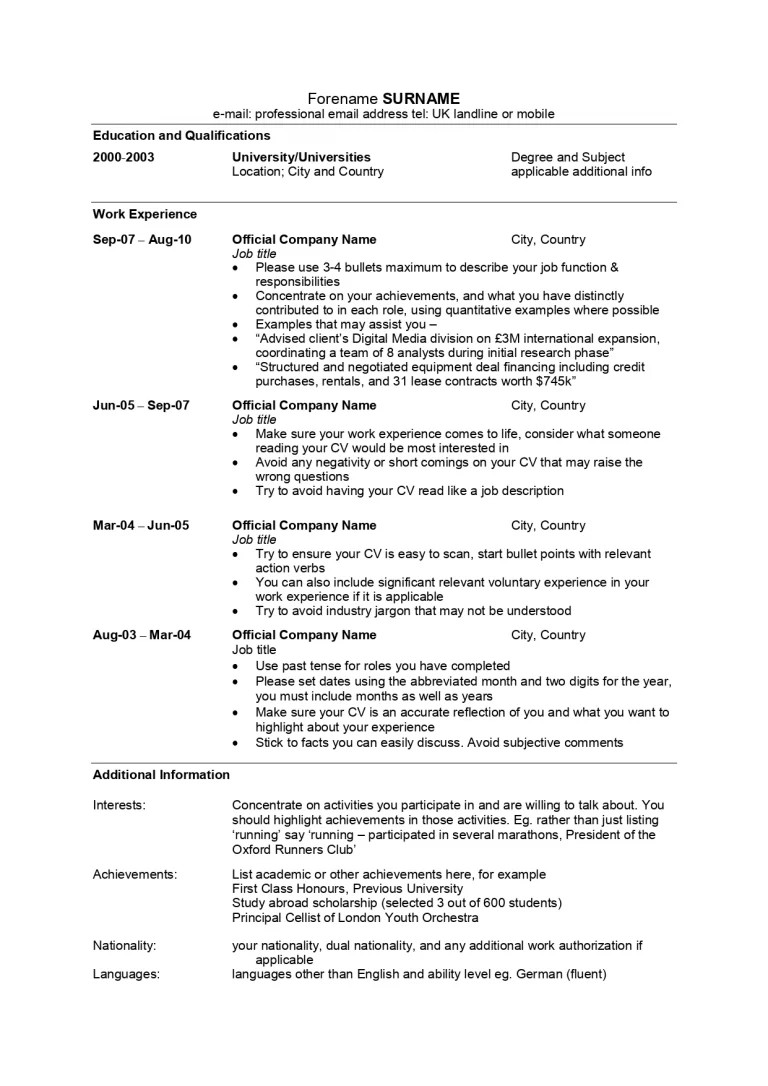 Forename SURNAME
e-mail: professional email address tel: landline or mobile
Education and Qualifications
2000-2003 University/Universities Degree and Subject Location; City and Country applicable additional info
Work Experience
Sep-07 – Aug-10 Official Company Name City, Country
Job title
· Please use 3-4 bullets maximum to describe your job function & responsibilities
· Concentrate on your achievements, and what you have distinctly contributed to in each role, using quantitative examples where possible
· Examples that may assist you –
· "Advised client's Digital Media division on £3M international expansion, coordinating a team of 8 analysts during initial research phase"
· "Structured and negotiated equipment deal financing including credit purchases, rentals, and 31 lease contracts worth $745k"
Jun-05 – Sep-07 Official Company Name City, Country
Job title
· Make sure your work experience comes to life, consider what someone reading your CV would be most interested in
· Avoid any negativity or shortcomings on your CV that may raise the wrong questions
· Try to avoid having your CV read like a job description
Mar-04 – Jun-05 Official Company Name City, Country
Job title
· Try to ensure your CV is easy to scan, start bullet points with relevant action verbs
· You can also include significant relevant voluntary experience in your work experience if it is applicable
· Try to avoid industry jargon that may not be understood
Aug-03 – Mar-04 Official Company Name City, Country Job title
· Use past tense for roles you have completed
· Please set dates using the abbreviated month and two digits for the year, you must include months as well as years
· Make sure your CV is an accurate reflection of you and what you want to highlight about your experience
· Stick to facts you can easily discuss. Avoid subjective comments
Additional Information
Interests: Concentrate on activities you participate in and are willing to talk about. You should highlight achievements in those activities. Eg. rather than just listing 'running' say 'running – participated in several marathons, President of the Oxford Runners Club'
Achievements: List academic or other achievements here, for example
First Class Honours, Previous University
Study abroad scholarship (selected 3 out of 600 students) Principal Cellist of London Youth Orchestra
Nationality: your nationality, dual nationality, and any additional work authorization if applicable
Languages: languages other than English and ability level eg. German (fluent)
By following these tips, you can create a strong resume that will help you get into the business school of your choice. Good luck!
Do you have any other tips for creating a strong resume? Share them in the comments below!
Still, have questions about resumes for business school applications? Ask in the comments below and we'll do our best to answer them!
The resume is just one part of the application process though. Make sure you check out our other blog posts on the application process, such as how to write a great business school essay and how to ace your MBA interviews. Please also check out our process, consultants, and plans & pricing on our website. All the best for your journey to your dream business school!
Drop us a comment below or shoot us an email at contactus@admitexpert.com if you want to explore taking our MBA admission consulting services.