IE Business Schools Essay is one of the most unique and flexible essays asked in MBA admissions. There is just one question and you can answer the essay in any of the 3 formats: a video (max. 3 minutes), a PowerPoint presentation (max. 10 slides), or a written essay (between 250-650 words).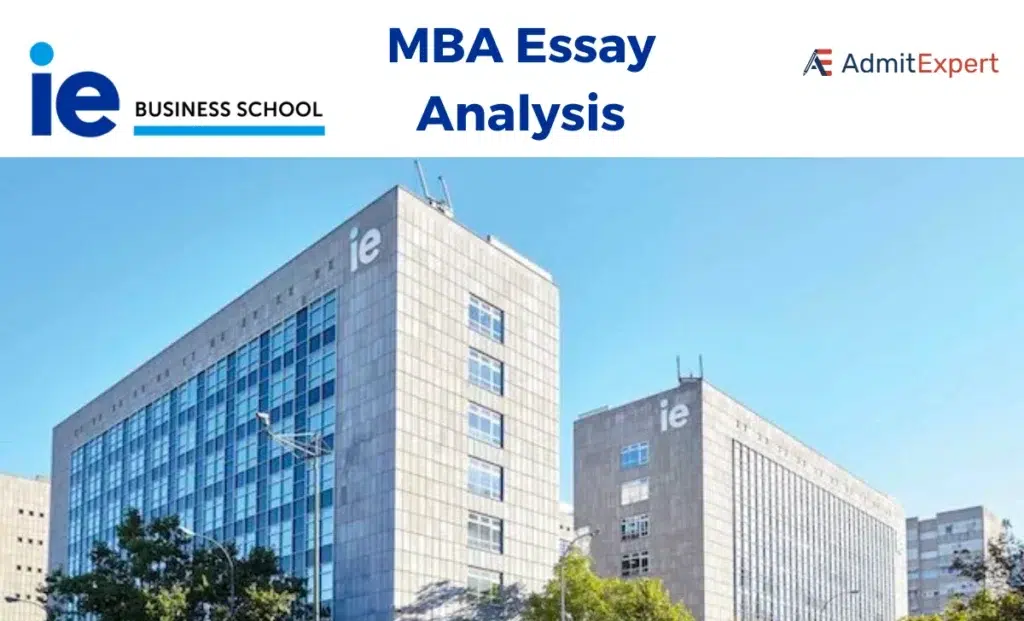 Essay Instructions
Please keep in mind that the text should be between 250-650 words and should be uploaded as one of the following:.pdf, .doc or. docx, font size 11, line spacing 1.5 or presentation .ppt, .pptx (Max size of file 6 MB)
IE Business School Essay Prompt for Jan 2024 intake
What is the most important thing that you would like us to know that is not in your resume or application?
All your compositions must be absolutely original and specifically intended for this admission application. The compositions must be composed, executed and completed by you alone. Before submitting the links, check that they work correctly. The links must be active and available for consultation for a minimum of 18 months after the date the application is submitted.
How to Write the IE Business School Essay
The essay comes with a notably generous word limit of 650 words, giving you ample space to craft a narrative filled with depth and detail.
On the other hand, the essay's generous length demands a strong command of language. Your ability to choose the right words, use elegant expressions, and thoughtfully arrange every element in your writing requires significant time and effort. However, mastering this challenge successfully showcases your skill in negotiation and communication, ultimately adding another layer of strength to your application.
Tips to write the essay effectively
Reflect
The prompt requires you to introspect about your 'unique attributes and personality',which can encompass a wide range of aspects and varies individually. A helpful approach for outlining these attributes involves jotting them all down and then linking them to the experiences that have contributed to their development.
Next, delve into these experiences and reflect what sets them apart. For instance, you might have been raised in a family that travels across the globe, influencing your sense of identity.
Or, a shift in your future goals could have driven you to switch industries, or you may have hobbies that aren't typically associated with those of your background. Utilize these experiences as the foundation of your response, showcasing how these unique qualities evolved through your journey, rather than directly stating the attributes themselves.
While discussing these attributes, underscore why you specifically chose them to characterize yourself. Highlight what distinguishes you from others by virtue of these traits. Moreover, consider how these attributes can enrich the program.
Do your experiences nurture exceptional interpersonal skills like humor or empathy? Are you culturally aware owing to global exposure, enabling you to navigate the intricacies of negotiation?
Frame yourself as a candidate poised not only to augment the program's value but also potentially to redefine its dynamics. Illustrate how your presence might reshape the program, showcasing your potential to instigate positive transformation.
Video
To approach this effectively, you'll need to invest hours watching videos on similar content, create a well-structured speech outline, practice both alone and with a partner. The video essay demands strong body language, effective speaking skills, and a charisma that can only be experienced firsthand—its impact can vary, influenced by how individuals perceive you, resulting in somewhat variable standards.
Nevertheless, this provides an excellent opportunity to demonstrate to the admissions committee that you're a confident candidate capable of effectively handling the challenge of an elevator pitch.
Given the 3-minute time limit for the video, roughly 400 to 450 words, it's advisable to draft a basic script and rehearse it repeatedly to ensure a polished delivery. Though time-intensive, this process hones skills that prove valuable for the Kira video assessment as well. Furthermore, this format enables you to narrate your experiences using various inflections and expressions, enhancing your presentation.
Tips to create the video essay effectively
Be concise
Depending on which aspect of your personality you want to highlight, pick 1 to 3 incidents to describe yourself. Opt for incidents you can summarize within 30 seconds. Then, discuss your takeaways and why the incident was significant. A streamlined draft ensures efficient use of your limited time and words.
Be expressive
In the video format, you can employ rhetoric, humor, or non-verbal cues like facial expressions and hand gestures. Aim to incorporate the first two for a semi-conversational tone, engaging the admissions committee. Use impactful phrases, famous quotes, or a motto as a structural guide. Be cautious not to choose overly specialized or abstract references. This approach creates a web of relatability in your speech.
Presentation matters
Prior to recording:
Besides dressing appropriately and minimizing distractions, pay attention to your clothing, background, and lighting. Make sure your camera and microphone work smoothly, without any technical issues. Have ample memory space to allow for multiple takes, ensuring you capture your best performance. This practice can also help alleviate any nervousness you might experience while n front of a camera.
During recording:
Rehearse your script several times to become comfortable with the rhythm and flow of your answers. This familiarity allows you to add your own personal touch. When delivering the speech, let your genuine self shine through your words. Radiate warmth, smile, and ensure you're at ease. Integrating humor or asking rhetorical questions, usually difficult in essays, can enhance your delivery. However, be cautious to avoid filler words like 'ummm,' 'oh,' and 'ah,' as these can reflect on your confidence and thought flow.
Post recording
Ensure there are no speech or body language errors by seeking a second opinion from someone you know. This helps assess if you made a positive impact. Make multiple correctly named copies of the file for backup. If submitting a video link, securely store it on a reliable cloud space, verify link access, and ensure it opens without issues. Lastly, double-check video quality, as it may degrade during uploading, downloading, or rendering.
PowerPoint
The PowerPoint format allows for creative expression and potentially reduces the reliance on written content by integrating visual elements like photographs—a potentially 'fun' approach to tackling the prompt.
If you're adept with technology, skilled at summarization, and proficient at condensing your words effectively, this format might suit you. Keep in mind that the presentation is limited to 10 slides, and the inclusion of photographs, video, and audio elements is not restricted.
Consider using this format as a 'show and tell,' incorporating photographs or videos from significant moments that have shaped your life.
This grants the admissions committee a glimpse into your journey, helping them vividly envision your background and identity—ultimately putting a face to the content. It also allows you the chance to be candid and openly discuss your experiences.
However, creating a good PowerPoint presentation demands significant time for preparation, editing, and structuring, ensuring it stands out from others.
Pay attention to structure
Given the 10-slide limit, you have plenty of space to include information and visuals. Aim for a word limit under 50 words per slide, using a clear typeface like Times New Roman in size 12 and double spacing. Consider using templates from SlidesGo or Canva that offer clarity and don't overshadow your content. Before working on the template, draft your content in Word to make revisions without worrying about text box placement issues.
Ordering content
Start your presentation with a slide that gives a brief overview of what's already on your resume and application. Make sure to include a formal, well-lit, and recent photo of yourself.
Moving on, dedicate the next three slides to your unique personality trait or experience. Describe what it is—whether it's an eidetic memory, synthesia, or a non-conforming lifestyle.
Provide a concise explanation of how you discovered or learned about it. Keep the language informative and engaging, taking inspiration from engaging fact phrasing found in the Dorling Kindersley series of the Big Book.
On the third slide of this series, discuss how you've applied these unique qualities in your life. Share moments that have added humor or interest to your experiences. As you proceed, explore other distinctive qualities you possess or elaborate on how you've applied these traits.
If possible, incorporate relevant photographs to visually complement your words. If you're involved in hobbies, sports, or philanthropy, take a moment to describe how you approach these activities differently than others. Make sure not to just showcase them; emphasize what sets you apart. Look for simple ways to make the familiar unique, adding a fresh twist to the ordinary.