The Yale School of Management (SOM) is one of the few top business schools that require applicants to write only one essay. This essay is used to show the admissions committee what kind of person you are.
The Yale School of Management (Yale SOM) asks applicants to explain a big commitment and what it means to them.
There is a 500-word limit on the essay, so you need to be clear, direct, and brief in your answer. There shouldn't be much preamble or extra text.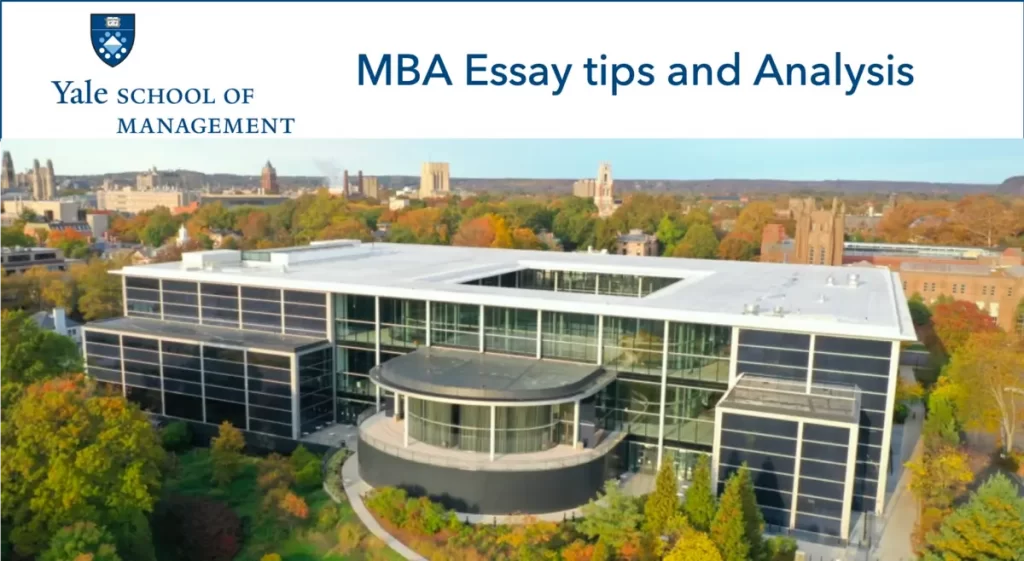 If you think the required essay topic won't let you talk about an important or interesting part of your profile, or if there's something about your application that needs more explanation, you can use the "optional information" space to fill in the blanks.
Application deadline
| | | |
| --- | --- | --- |
| Round | Deadline | Decisions |
| Round 1 | September 13, 2022 | December 6, 2022 |
| Round 2 | January 5, 2023 | March 24, 2023 |
| Round 3 | April 11, 2023 | May 18, 2023 |
Who is Yale SOM looking for?
"The Yale School of Management embraces diversity. We believe that effective leaders are those that understand and benefit from the perspectives of people with different backgrounds and that a commitment to building a diverse community is a key element of our mission of educating leaders for business and society."
Yale SOM MBA essay prompt for 2023 intake
There is just one essay that Yale SOM asked its applicants to submit. Here's the topic
Describe the biggest commitment you have ever made. (500 words max)
MBA essay tips from Yale SOM adcom
Let's begin with what admissions officials from Yale SOM have to say on this topic.
According to Maria Derlipanska, Senior Associate Director of Admissions
"The first thing that may come to mind about our essay question is, 'Why is it phrased so broadly?' That's intentional. We don't want candidates to think that we are trying to steer them towards a particular kind of commitment, either in nature or scope. The question is meant to elicit self-reflection and result in you describing a commitment that is truly meaningful to you."
Bruce DelMonico, Assistant Dean For Admissions, also adds that
We have one essay question: "Describe the biggest commitment you have ever made." We developed this question in collaboration with Amy Wrzesniewski, a professor of organizational behavior at Yale SOM. Your time in business school, and the choices you make thereafter, represent significant commitments. In asking this question, the Admissions Committee is seeking to learn about how you have approached a commitment of importance in your life.
When it comes to choosing a topic, be genuine. We want to hear about something that is meaningful and distinctive to you in your own voice. Your commitment can be personal, specific, or expansive. We receive outstanding, insightful essays covering a wide range of topics.
The content of your essay is every bit as important as the topic. Regardless of the commitment that you choose, the most effective essays do a great job of describing how you approached your commitment. Point to the specific actions that you have taken over time to bolster your commitment. This is especially important if you have chosen a broad topic, such as an ideal or a belief. Don't just explain why a commitment is important to you; we want to understand how your behaviors have demonstrated and supported your commitment.
Here's a video that will help you more understand this topic
Yale SOM MBA essay tips
Before beginning take a look at this video on application tips
Like Stanford's "What Matters Most to You, and Why?" this question looks easy, but it's not.
Yale asks a simple behavior question because it thinks that past behavior is the best predictor of future success.
They want to see an honest record of what you've done, and if it's clearly presented, they should be able to figure out what motivates you and what's most important to you.
Before you can answer this question, you need to think about the scope of your answer. You could talk about a single story, accomplishment, or cause, but the question is broad enough that you could also talk about a theme in your life.
Action over intent
Yale wants something that is more objective and less emotional than what other schools want. Your actions are likely based on strong feelings, values, and motivations, but Yale isn't interested in what moves you; they want to see what you've done in order to accomplish what moves you.
Yale urges applicants to be "honest with themselves," as they are looking for "behaviors that support" your declared commitment. Because the essay asks for evidence, you must be truthful.
Honest introspection
Conveying your story honestly is the foundation of the Yale SOM MBA essay. For this, you need to not just introspect yourself but also ask tough questions to make sure the honesty is not diluted.
Think about how you behaved in different situations in the past objectively. Maintaining 'objectivity' is the most difficult aspect of writing this essay. Focus on your actions and not the thoughts and feelings behind those actions. Think about how you typically spend your time, attention, social capital, and emotional energy.
When faced with a difficult decision, which path did you choose? What has influenced you as a person? Review and think about the decisions you have taken and write down what patterns you observe.
Based on this pattern, think about the 'ONE' commitment that you would want to talk about in your essay.
Be Crisp
Regardless of whether you choose a personal or professional angle, make it apparent in the opening paragraphs of your essay. There isn't much room for context or strong emotional hooks when you only have 500 words to deal with,
Be Crisp.
The simple form of the question can inspire your writing style. Ensure that the reader is focused on you as the primary character and that your sentences are action-oriented, concrete, and specific.
By doing so, it is very probable that you will wind up writing an excellent essay as a result!
Final Thoughts
No matter how you choose to talk about your commitment, you should make sure to include stories and examples that back up your main point.
Lastly, make sure you analyze your example(s) enough so that the reader can understand why you made the commitment and how you got results along the way.
Remember that the main thing you should be focusing on is not the quality of the outcome, but how and why you did what you did.
Career essay
How did you arrive at your career interests? How have you or how will you position yourself to pursue them? (250 words maximum)
Even though this isn't an official essay question from the school, its length (250 words) and subject matter make us think that some help might be useful.
After choosing your short-term and long-term career goals from a drop-down menu on the application (see the screenshot below), you are asked to write a short essay to explain and put your goals in context.
Goals essays are often overlooked by applicants, but they are very important because they tell the committee why you need an MBA from their school and what you plan to do with it.
In all essays about goals, you should start with the context, because goals without context are often not clear or have much impact. You might want to tell a short story or a few small stories to set the context.
Then, after setting the context, tell the admissions committee what your goals are. In the section about your goals, you should list both short-term and long-term goals, with the job title and industry for each. Also, saying why you want these goals and what you want to happen as a result of achieving them is a great way to take your essay from good to great.
Lastly, if you have room, put a small section at the end about how Yale's MBA program can help you grow and reach your goals.
Overall, Yale SOM is looking for people who can convince the ad-com about how their past experiences and reasons for getting an MBA will help them in their future careers. Knowing the difference between short-term and long-term goals and how they fit together will help you make a strong case to the Yale admissions committee.
Optional Essay
If any aspect of your candidacy needs further explanation (unexplained gaps in work experience, choice of recommenders, academic performance, promotions or recognition, etc.), please provide a brief description here. (200 words maximum)
Yale's optional information prompt tells you to highlight any problems you think might be in your profile.
The word "brief" makes it clear that the school wants you to focus on giving the most important information instead of giving a long and detailed explanation of the issue.
This is not the time to tell the admissions committee another great story or try to impress or please them in any other way. We don't think you should fill out this section if you don't really need to explain an issue or part of your application.